Christine, Jack and I drove down to College Station on Saturday, to take Jack to his first Aggie game!
Long story short: The Ags won, and Jack had a GREAT time!!!
We got to town around 4:00, picked up Bussy at the mall, and drove to the reserved parking that Bussy has (he didn't want Christine to have to walk too far, since she's 8 months pregnant). After parking, we walked over to the quad, saw a few old BQ buddies, and waited for the band to step off.
He didn't quite know what to do when the band marched by, but he loved every minute of it, even if the drums were a little loud for his taste. (He'll get used to that).
Then we walked over to the Corps Center to watch the band march by again. Then on to the MSC to get Jack a good Aggie shirt (they're hard to find in Austin folks). We ended up buying him a regulation 12th man jersey for $40. Why we spent $40 on a size 2T jersey when the shirt I was wearing probably cost $5, I can't explain…
After cooling off a bit, we went to the car to change diapers and put away the stroller, then on to the game.
After huffing and puffing up two levels, we climbed about twenty steps to get to our seats in row 27 on the second deck on the parents side of Kyle Field. The seats are great! They're on about the north 35 yard line, two rows down from the sky boxes, and look like they're always in the shade.
We said "Hi" to Norma and Jake, and then Andy Kollman and one of the Luedke boys showed up to sit in front of us (they're all from Bellville).
I could just tell Jack was impressed with everything that was going on. About 10 minutes before the game started, I went and bought us all hotdogs and water, and a pretzel. Jack ate a whole hotdog (sans bun) before the game really got started.
We sang "Spirit of Aggieland" with the band, and the National Anthem, and Texas Our Texas, and watched four F-16's fly over before the game… then it was time for kickoff.
About half-way through the 2nd half, we said our good-byes, and headed towards the car, but we met Mike Elmquist (one of my buddies from the band) at the Reveille graves on the way out. Man it was good to see Mike!
Jack passed out once we got on the road, before we even got out of Bryan. The trip home was uneventful, but, we did get to hear the last few minutes of the Ohio State v. Texas game on the radio once we found the station. In lieu of the radio, Mike Kamp (Chrsitine's brother) was giving us the play-by-play of the game via text messages on my cell phone (thanks Mike!).
There's a video from the day if you want to see how much fun Jack had. It's a big file (about 60MB, so it might take a while to download, but it's worth it if you want to see his face when the drums marched by, heh!):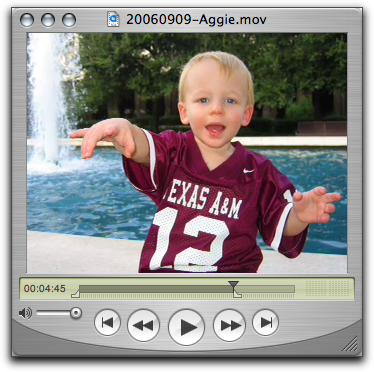 Gig 'Em!
(oh, and by the way, since Texas lost to Ohio State, I'm thinking Thanksgiving will be a fun game this year)