Since the kids were on vacation this week, Christine and I decided to "get some things done" while they were out of town.
We ended up feeling like we didn't get much done, but we enjoyed our little mini-vacation from the kids, and loved hearing about how much fun they had on their vacation to Camp Momo.
We did accomplish a few things though:
We rearranged the guest bedroom, so we can actually get to and use the file cabinet that is in there to store important papers and stuff.
We test drove four or five cars.
We washed three or four loads of laundry (trust me doing that many loads, that I'm actually involved in, in one week is a big deal).
We went to dinner at Jeffrey's with Tony and Lisa, and Andy and KK, Jack and Christine. What a night!
We "borrowed" a car on Thursday night, drove to Josh's house to get his opinion, had dinner at the Austin Pizza Park, sampled his latest culinary creation: TUBS (The Ultimate Bacon Sundae) which comprised of home-made candied-bacon ice cream in a bacon bowl with a strip of chocolate covered bacon perched atop the scoop of ice-cream. While delicious, it was clearly "too much bacon" for me. Josh gave his thumbs-up on the car though. We also visited Tony on the way home, since the weather was so nice, and Tony gave his thumbs-up too.
On Friday, Christine drove to Bellville and picked up the kids from Camp Momo.

I got home from work and showed the kids "Daddy's new car" (realize we still hadn't decided to buy it yet).

Jack and Grayson came out into the front yard, where Jack proceeded to tell me my old car was "ucky" and he thought it looked like "poop".
I asked him what he thought of the new car, and he said "it's cool… it's a racecar!" (any car with a spoiler is a racecar to him).

I then pulled the key out of my pocket, and said "Watch this!"

Jack's mouth opened as wide as it could while the top of the convertible automagically retracted into the car, and when it was all done, Jack just stood there and said the best one word a Dad can here from his son: "Cool." No exclamation.

Just. Stoic. Coolness.

We loaded the kids in the car, and drove off into the sunset… Actually, we drove to a Hawaiian Snow Cone place, and got out and had snow cones (a first for both boys) then we drove around for a while with the top down, before heading to McDonald's for dinner and some playground time. On the way home, Jack asked us to "make the car change" constantly, and no matter what we did, as soon as it changed, he wanted it to change again.

On Saturday, we drove out to Lakeway for some time with Debbie, Raymond, Cheri, Greg, Paige, Patrick, Matthew, Peggy, Payton, Scott, Christi, Derrick, and their friend Brian.

We took a boat ride with all of the kids, and put them all in a big three-person tube, and pulled them behind the boat (I'm sure Greg's back is killing him today).

I drove back to the dealership to actually buy the car… it's official, we own a 2005 Saab 9-3 AERO Convertible, and we're loving it.


(we'll get some photos of our actual car online someday, I'm sure)

We then took a dip in the pool before dinner, and headed home, with the top down all the way.

The kids LOVE this car as much as we're loving it, I think. (There's nothing like two kids in car seats in the back of a convertible in 100 degree weather in Austin, Texas.)


Grayson was sleeping, Jack was holding his hand

On Sunday, we woke up a little late, and Jack, Grayson and I went out for a drive on the town with the top down. We found breakfast, and fed a homeless guy while we were eating (bought him a sausage, egg, and cheese biscuit to go with his cup of coffee).
I cleaned out the Honda for Payton… will take it to get detailed and serviced this week.
I made 13 CDs (mixes of lots of different music) for the Saab's CD changer (I haven't listened to an actual CD in ages) because I have no idea how to connect my iPhone to it yet.
We met our newest neighbors Chris and Tina, who moved in across the street about three weeks ago and have a 4.5 year old son, Quinten, and a 2.5 year old daughter, Chelsea. After seeing that they're totally moved in and pretty much decorated, we got motivated and…
Stayed up until midnight on Sunday night decorating the living-room, searching for some furniture on Craigslist, and finishing the organization of the guest room.
So, that was our week and weekend. While we "didn't get anything done" I sure feel like we did a lot!
Watch the movie of Jack and Grayson getting down to 50 Cent in the back of the convertible on the way to Lakeway: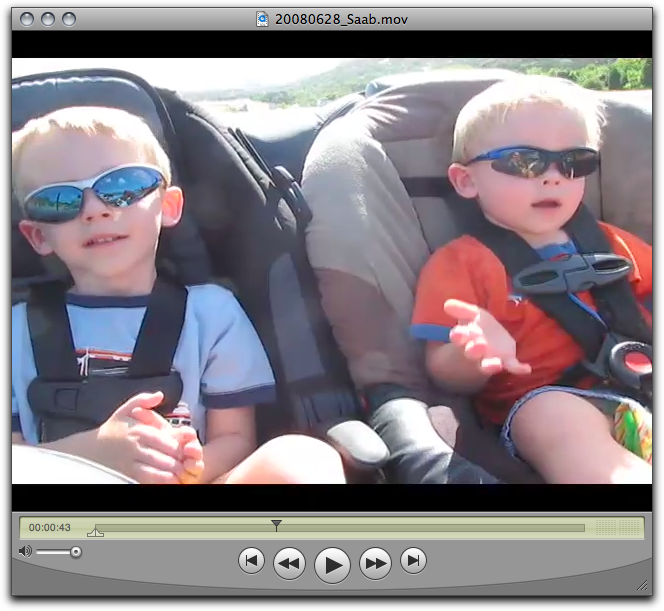 Average Rating:
4.6
out of
5
based on
216
user reviews.