Today was a glorious day. Gosh it was gorgeous outside in Austin today.
Around noon, I went to Home Depot to buy some angle brackets and screws so I can hang the valances that Christine had Debbie get made for the baby room. While I was there, I also bought three water hose wranglers (you know, those boxes you store water hoses near the water spigot outside). One of them auto-retracts the hose for you… it's spiffy.
When I got home, I started working in the yard. I raked most of the leaves out of the flower beds in the front yard, and then mulched them with the Black and Decker mulcher thingy I have. Then I spread new mulch down in one of the beds out front… I only had a few bags of mulch, and I'll be buying more next weekend, along with some flowers for the beds out front.
I installed the hoses in two of the three hose wranglers I picked up.
I also rescued about 200 foot of water hose from the jungle on the south side of our house (that side is all ivy and ground cover, and the last owners of the house had left that poor water hose out in the jungle to die).
After all of that, I sprayed Sevin Dust bug killer on all of the plants and all around the house. Weirdly, though, I don't think any of the spray actually came out of the applicator… No idea why, but I'll take time to investigate the inner workings of the screw-on applicator next weekend.
I was exhausted by 5:30 p.m.
It was fun working outside, and I got the chance to listen to a lot of the new music on my iPod. I've decided that I really like The Used. The Postal Service has some catchy tunes, but some of their songs are weird. I like Eminem's Encore album, and the Rob Zombie album I have … I think it's called Hellbilly Delxue or something catchy like that.
I went inside and drank a cold glass of water. It tasted sooo good. Jack thought it looked good too, and when he grabbed it and pulled it towards his mouth, so, we let him try to drink it. It was hilarious, and after we got done drinking, he was soaking wet, as was I: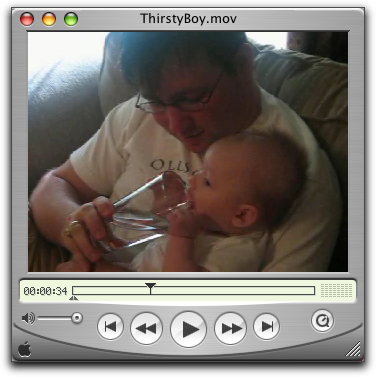 Photos Here
After relaxing for a little while, Christine, Jack and I took a walk around the block. We stopped to smell the flowers, and tasted our toes on the way too: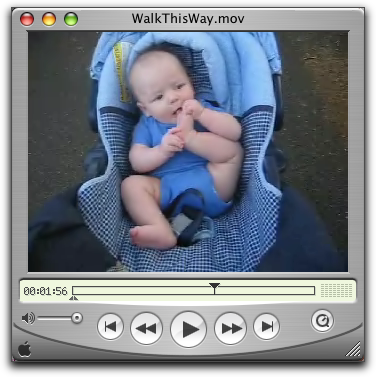 Photos Here
When we got home, Jack played in his exersaucer for a few minutes… it was a lot of fun, but I think it was toy overload..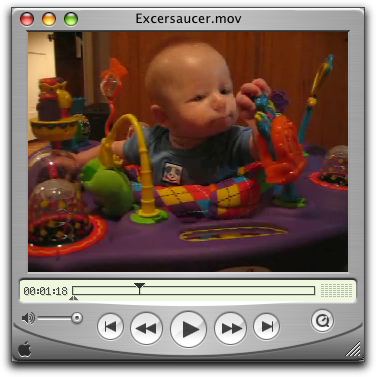 After playing, I went and got dinner from Freebirds (I'm sure burritos are on the Weight Watchers diet, somewhere). Mmmmmmmmm. Gooooood. Fooooood.
When I got home, it was Jack's dinner time, then bath time, then bed time. He cried for 18 minutes (yes, my wife is a civil engineer and has the time written down) and was out. I think he was as tired as I am.
Looking forward to another week at work.
Oh, and by the way… I think Daylight Savings Time is a stupid idea (in the spring).