Tuesday was a crazy snowy wintery weather kind of day. I don't think it got above 32° here at the house.
I stayed home and worked from the home office, instead of trying to drive into work, although, I bet I could have driven to work in the morning, but by mid-afternoon, there was no way I was going anywhere.
Jack and Christine played outside a little in the snow (it'll never snow when he's two years old again) and had fun. It was crunchy and slippery on the icy grass and concrete.
Here's a quick movie Christine shot of the front yard when it was really snowing: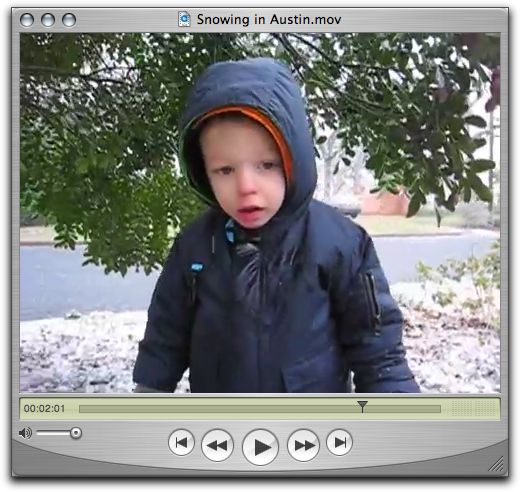 And here are some photos I took in between phone calls (you should have seen me outside in my sandals and shorts trying to take photos without shaking… stupid, stupid, stupid). Yes, Jack is eating an icicle in one of them… ha!
And yes, this is one of my favorite songs of all time! Baby It's Cold Outside, by Dinah Shore from back when music was real music, and people could really sing. If it's cold outside, it's a great pick-me up song.