On Wednesday night of this past week, Christine and Jack drove to Bellville for the Austin County Fair.
Oh my gosh, did they have fun.
They stayed with Grandma, and got to spend a lot of time playing with Ella and Aunt Shadel.
On Thursday morning, they all got up, and headed to down the road to the Austin County Fair Parade. They found their spot on the side of Highway 159 near Mrs. Payton, Jennifer, and their bunch of kids, and settled in to watch the parade. They were also sitting next to Mrs. Hueni and Brian was there (Haven't seen them in forever and I'm sorry I missed them).
The parade started, and soon, there were firetrucks and ambulances from all of the towns in the county driving through town, making all sorts of racket. There were a few bands, and the Boy Scouts and Girl Scouts paraded through town. The fair queen candidates rode in on a trailer, as did all mannner of cheerleaders and mascots.
The kiddos were getting tired towards the end of the parade and ended up falling asleep in their strollers.
On Thursday evening, the family got dressed up and headed to the fairgrounds. The saw the opening of the rodeo, and met some goats, and pigs, and cows, and other animals, before heading over to the carousel for some fun. (The animals scared Ella just a little).
Christine finally got to meet Dixie Haverlah, who babysits Ella for Aunt Shadel and Uncle Evan. They all had lots of fun on the carousel.
Jack got to taste ice-cream at the fair for the first time ever… bad mommy… she gave in to temptation…
Ella and Jack got some whirly light toys and had lots of fun playing with them, before eventually heading home. On the way out of the fair, Christine plopped Jack on a tractor. Jack was totally in command of his element.
Now that you've looked at all of those photos, here's a quick video from the Fair photos and videos that Christine shot: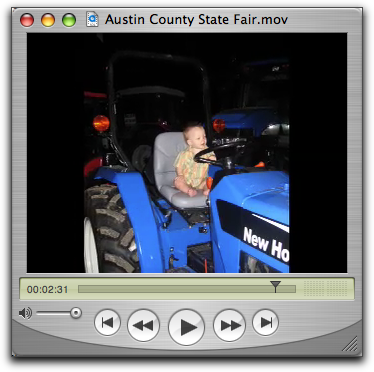 See all of the photos from the Fair in this gallery.
On Friday, they all headed towards the pumpkin patch in Sealy to take photos with all of the pumpkins. Evan told them that there were plenty of pumpkins out, but the Great Pumpkin must have liberated them all, because when Peggy met the girls and kids there, there weren't but two pumpkins left…
So they took lots of photos with the two pumpkins that were there, and then Aunt Peggy and Christine drove back to Austin.
Sounds like they all had lots of fun at the Fair this year… I'm gonna have to make sure I go next year.