Tonight, Christine and I fed Jack his first meal from a spoon.
Over the last week or so, Christine has noticed that Jack smacks his lips when she's eating. Supposedly that is one of the signs that your child is ready to eat real food.
We've read that your supposed to start feeding your kid real food when they're 4 months old. Jack's almost there, so, we figured we'd try feeding him some rice cereal tonight.
So, here's the movie of Jack eating his first meal from a spoon. The movie is about 10 minutes long (and is 55MB in size), because I just couldn't bear to edit too much of it … it's precious to us, and we hope you enjoy watching him eat, and hearing us discuss the process. So, without further ado: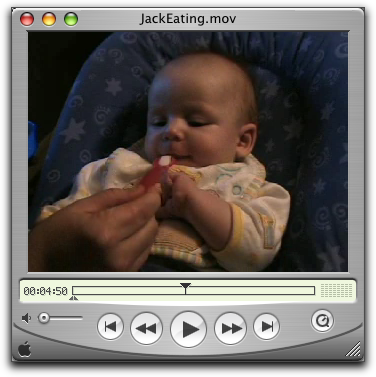 Jack Eating
After feeding Jack that little bit of rice cereal, Christine fed him some of the good stuff. Erin showed up shortly after we fed him, and Christine and I headed off to Weight Watchers. Erin fed Jack a formula bottle while we were gone, and when we got home, he was sleeping. We fed him another bottle right before bed time, and here's hoping he sleeps through the night.
Oh, and I've lost 8 pounds in 3 weeks, thanks to Weight Watchers.
Average Rating:
5
out of
5
based on
167
user reviews.