This was Jack's first Easter. Christine and I had hoped to spend the afternoon at the church sponsored picnic and Easter Egg hunt on the lawn of the State Capital building, but, the weather proved difficult on Saturday afternoon. We went to the picnic, after picking up a couple of sandwiches at Jimmy John's Sandwich shop (we found that place while we were at the hospital back in November).
When we arrived at the Capital, we ventured out onto the lawn with all of the other families gathered, sat down, and ate our lunch. We discovered Jack likes to people watch while Christine and I were eating. One of the preachers came and visited with us, and then we decided it was just too cold and wet to stay out too long… so we waited for the Easter Bunny to show up, took a picture with him, then headed back to the house. We stayed home Saturday night and watched Troy on DVD. (Nothing like watching a film about Greek mythology on Easter weekend right?)
On Sunday morning, we got up and went to church. Kim, Brad and Kim's mom saved us some seats in the balcony (church was packed today with all of those Easter Methodists) and we sat through the whole ceremony without a trip to the "cry room". I guess Christine got the feeding/nap schedule down this morning, because Jack was really good in church. He didn't make any crying sounds, though he did start talking to me at one point during the service. We got a lot of compliments on how cute Jack was after the service, which tells me he wasn't a bother to anyone around us.
After church, we drove out to the lake to have Easter lunch/dinner with Debbie, Raymond, Peggy, Payton and Shirley. Payton was wearing his school ring, which he's earned as a Junior in High School… He sure is growing up to be a fine young man.
It was a gorgeous day today in Central Texas.
Right before we ate, we drove down to the Hamilton Greenbelt there in Lakeway, and took some photos. The best ones came from a setting on the creek, near a little set of rapids. Jack got a little cranky, because he was tired, so Christine and I headed back to the car early. Jack fell asleep in Christine's arms as we walked back to the car. He was snoring in her arms. That was cute.
After a late lunch/early dinner, we watched Finding Neverland on DVD. Good movie. A bit slow at first, but a great ending.
Then Jack played "Who's gonna eat that hand" with Raymond. Here's a little movie from their playtime. Jack was laughing so hard. I wish I'd have grabbed the camera sooner to capture more of it on film: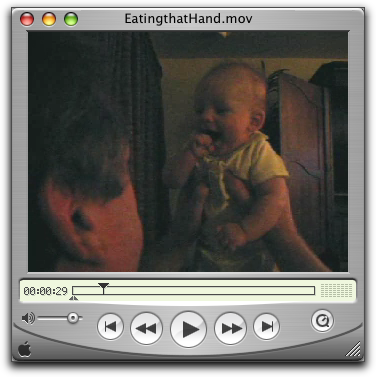 We headed home shortly after 9:30, and Jack is sleeping in his car seat now (never wake a sleeping baby, right?)
Hope you all had a happy Easter. You can see all of our photos from this weekend in this gallery.