Christine and I hosted a small Super Bowl get together today, primarly because last night we meant to spend time at Josh and Elise's celebrating Elise's 30th birthday and Michelle's birthday, but we had to leave early because it was past Jack's bed-time.
Kim, Brad, Elise, Josh, and Victor all came over. Brad brought some brisket he'd cooked the day before that was really good. Josh brought some salsa. And Victor brought paper towels. (Gotta love it when your friends pitch in).
It was fun to watch the game with good friends that were looking for a laid back environment to watch the game in.
Jack enjoyed the game, and went to bed right before it ended. He's sleeping good now that the Patriots won.
I played with Jack a little this morning, and shot some quick video footage of him in his bouncy chair. His facial features are really starting to develop, and he's kicking and grasping for things with his hands: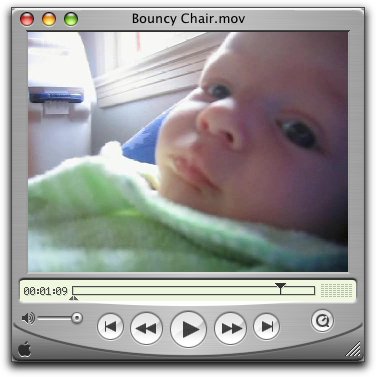 (Quicktime required)
I also took a few pictures today of him in the bouncy chair … some of them are too cute.
Average Rating:
5
out of
5
based on
292
user reviews.