Earlier this week, on Tuesday morning, Jack took his first real steps by himself.
Christine and I have seen Jack take a step or two when we were by ourselves with him, but we decided that we wouldn't say he "walked" until both of us saw him walking at the same time.
We decided that because, well, we didn't want to be overzealous parents that thought we saw him walk when he was really just falling down, or trying to stand up quickly and had to take a step to get his balance.
So, on Tuesday morning, when I saw Jack taking a few steps, I hollared at Christine "get in here!" and she came running, just in time to see Jack take 4 or 5 more excited and super wobly steps. It was really cute. He was pushing the little duckie push toy we picked up for him for his birthday, and using that to balance.
Since then, Christine and I have tried to get some video of Jack walking, to no avail…
So here's a little video of some of the footage we've taken while trying to capture some of Jack's first steps on video for posterity: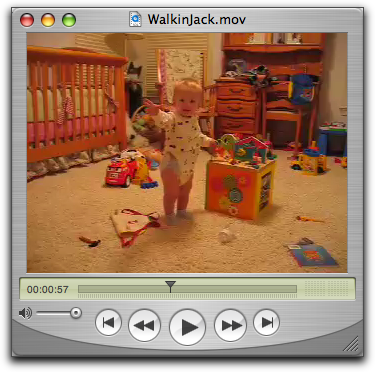 Click to watch the movie
When I told my mom that Jack was walking her advice to Christine and I was to:
"Get your rest now it's almost time to start the fun run… Hope you can keep up… I gave up around 3 or 4 yrs. old… I went to just keeping a eye on you guys… you two were too fast for me"
Heh…